Mobile applications have revolutionized the way one manages the business. These apps allow the user to access & manage tasks remotely on a phone or tablet. The same goes for Mobile CRM software.
In today's hyper-connected world, where phones have become an extension of our hands, harnessing the capabilities of mobile devices is crucial for businesses to excel.
Say goodbye to tedious paperwork or the need of having a laptop or personal computer and hello to streamlined operations, increased productivity, and extraordinary customer experiences in your palm.
In this blog, we unveil The Top 9 Mobile CRM apps that are transforming the way businesses thrive in the digital age.
What is a Mobile CRM App?
A Mobile CRM App refers to a specialized software application designed to enable businesses to manage their customer relationships effectively using mobile devices such as smartphones and tablets. It empowers businesses to stay connected, organized, and responsive to their customer's needs while on the go.
The best CRM apps offer a range of features and functionalities that are tailored to the unique requirements of mobile devices. These apps allow users to access and update customer data, track interactions, manage sales pipelines, and collaborate with team members, all from the convenience of their mobile devices.
The purpose of a Mobile CRM App is to provide businesses with the flexibility and agility they need to manage customer relationships seamlessly in today's fast-paced digital landscape. By leveraging the power of mobile technology, businesses can enhance productivity, improve customer service, and drive sales growth.
How a mobile CRM benefits your business?
Access Data Remotely from the phone:
Business owners and their teams must stay connected and responsive on the go. Mobile CRM allows access to customer information anytime, anywhere, using smartphones or tablets. It enables prompt responses, quick follow-ups, and the ability to seize business opportunities wherever they arise.
Get done more in less time:
Mobile CRM apps streamline tasks and automate manual processes, maximizing productivity. Sales teams can manage leads, update customer records, and track sales activities in real-time from their mobile devices.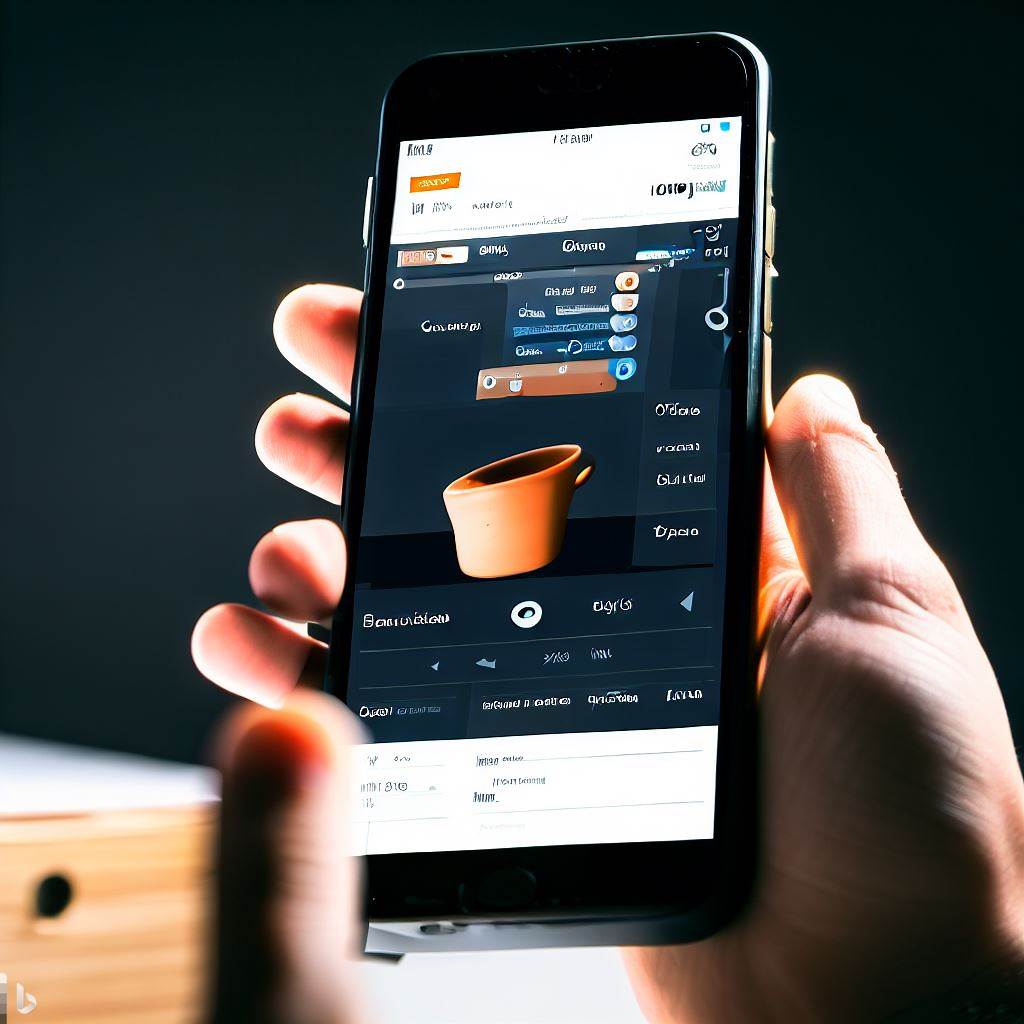 Improved Customer Interactions:
Exceptional customer service is vital for businesses. Mobile CRM empowers businesses to deliver personalized and prompt experiences. Access to customer history targeted marketing messages, and real-time issue resolution allows for a personalized touch and stronger customer relationships.
Light on pocket:
Businesses need cost-effective solutions. Mobile CRM offers affordability by eliminating expensive hardware and software installations. Subscription-based pricing models allow businesses to choose plans that suit their needs and scale as they grow. Mobile CRM provides advanced CRM functionalities without breaking the bank.
Now that you know all about Mobile CRM let's check out the 9 best Moblie CRM Apps.
What is the impact of mobile CRM?
For businesses, mobile CRM enhances operations by providing seamless accessibility to customer data and sales pipelines, empowering sales teams to make informed decisions and prioritize leads. It also improves collaboration among team members, resulting in streamlined teamwork and increased operational efficiency.
In terms of customer experience, mobile CRM enables personalized interactions by giving sales representatives real-time access to customer information, leading to tailored conversations, targeted marketing messages, and stronger customer relationships. Prompt responsiveness to customer inquiries and the ability to deliver relevant information enhances engagement and customer satisfaction. Additionally, the convenience and accessibility of mobile CRM contribute to a seamless and convenient customer experience.
What are the uses of mobile CRM?
Mobile CRM serves various essential purposes that benefit businesses in managing customer relationships and driving sales growth. Here are some key uses of mobile CRM
On-the-Go Access: Access customer data, sales pipelines, and tasks from anywhere using mobile devices.
Real-Time Updates and Collaboration: Ensure up-to-date information and seamless collaboration among team members.
Lead and Opportunity Management: Capture, track, and update leads and opportunities on the go for improved conversion rates.
Customer Engagement and Follow-Ups: Engage customers promptly with personalized interactions and timely follow-ups.
Task and Activity Management: Create, update, and track tasks, appointments, and sales activities on mobile devices.
Offline Functionality: Access and work with customer data even without internet connectivity.
Instant Notifications: Receive real-time notifications for important updates, such as lead assignments or customer inquiries.
Sales Pipeline Tracking: Monitor and track the progress of sales deals and opportunities.
Call Integration: Make and receive calls directly within the mobile CRM app, ensuring seamless communication and call logging.
Offline Data Synchronization: Automatically sync data when the internet connection is restored after working offline.
List of 9 Best Mobile CRM Apps for Business
Runo
Zoho CRM
HubSpot
Freshsales
Salesflare
Pipedrive
CapsuleCRM
Salesforce
Bitrix24
When you think of a mobile CRM, you just can't simply ignore Runo Call Management CRM. Runo has been a game-changing solution designed to reshape how you manage customer relationships.
The platform has an easy-to-use interface that requires almost no learning curve. Additionally, Runo is useful for picking up the sales pipeline, managing contacts, and keeping you updated with the customer flow. 
It also has features like follow-up notifications, & it can be tailored according to the business needs. Secondly one can also integrate Runo with different lead generation sources like Meta (Facebook), Gmail, Google Sheets, & also with Whatsapp, Google Sheets & calendar.

What sets Runo apart from the other platforms on the list is that it is not just a Mobile CRM, but also a Call management tool. Runo manages outbound calls at the SIM level. That means businesses can make sales calls with a normal SIM number, & track calls on the phone itself.

This telecaller app has features like Auto Dailer, Call Tracking, Call recording, and real-time analytics, that showcase data such as calls attempted, connected, non-connected, wrap-up time, break time, login time, and more.
Runo brings on a CRM & with that a cutting-edge Call Management tool. This telecalling app is everything your sales team needs, it can be used to track calls & has a Mobile CRM in-built. You can download Runo for free from Google Play Store & Apple's app store.
Zoho is a well-known name in the CRM industry, offering a range of products tailored to different business needs. Zoho CRM Plus, their top-tier offering, provides businesses with a cost-effective alternative to Salesforce.
The mobile CRM app allows users to access and add records even offline, making it a convenient option for those on the go.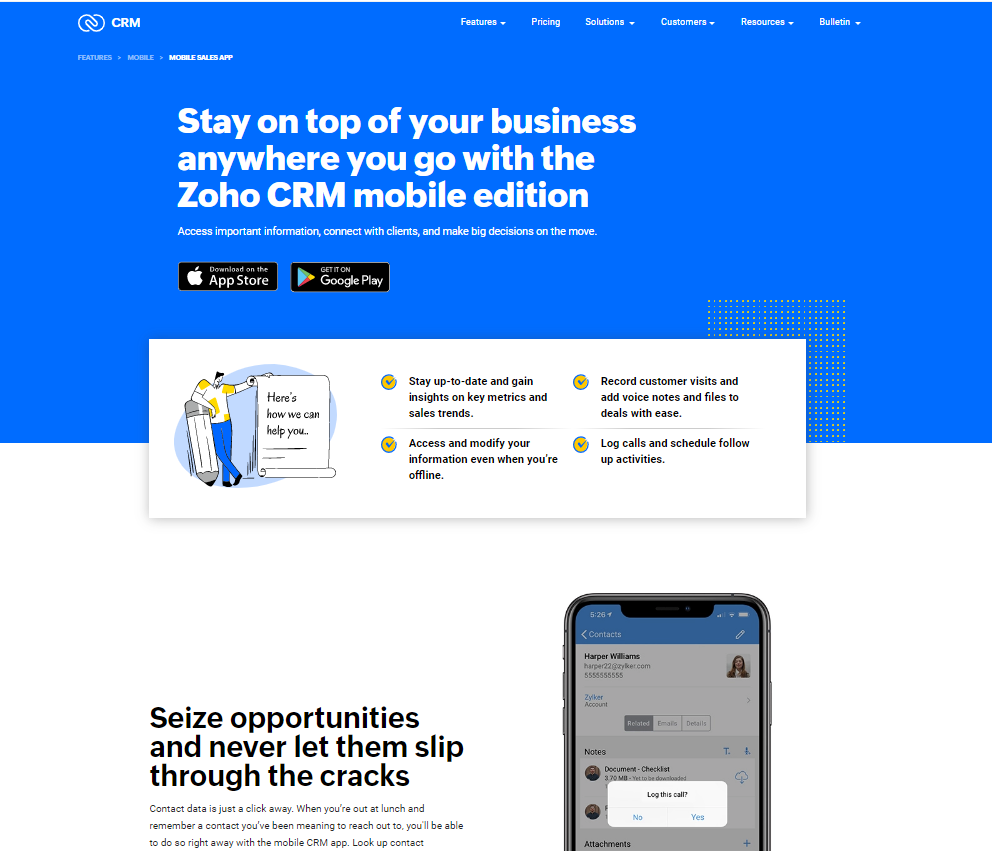 With its seamless interface, the Zoho mobile CRM app offers interactive features such as location-based sales opportunity identification and visit logging.
It also provides real-time reports and AI-powered capabilities, making it a powerful resource for sales teams. While primarily designed for the sales department, Zoho CRM can be explored and utilized for various aspects of business management.
Experience the power of Zoho CRM, an affordable and feature-rich solution that empowers businesses to streamline operations and enhance customer relationships.
HubSpot's scalable sales CRM combines functionality and convenience seamlessly. With advanced CRM features like deals on the go, reminders, task creation, and a detailed activity feed, it provides a comprehensive solution for managing customer relationships on the move.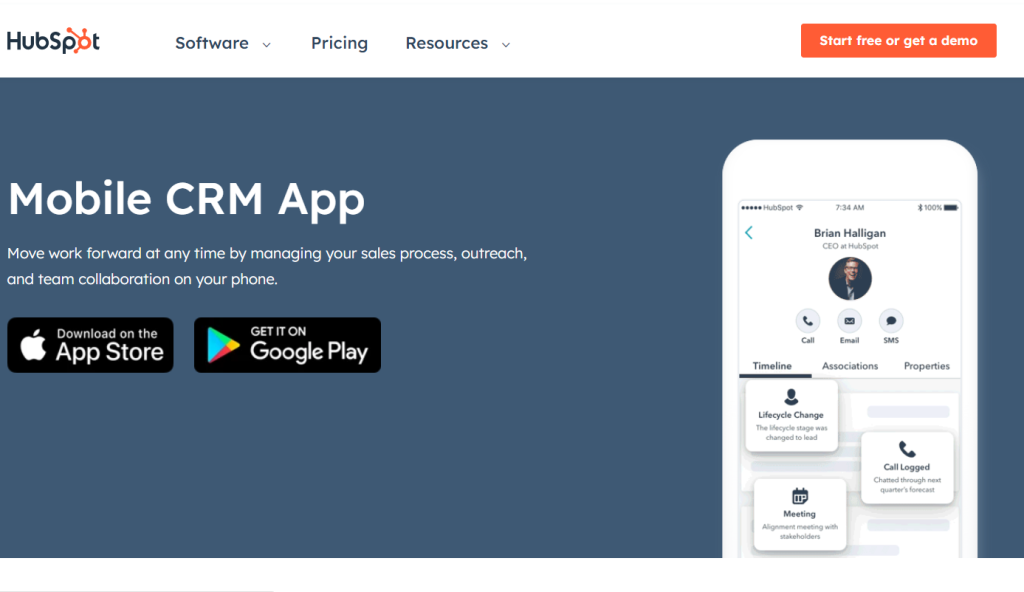 The app also supports live chat, detailed caller ID, meeting outreach, and quick email, ensuring efficient communication and engagement.
Team collaboration is simplified with accessible storage, real-time notifications, task assignment, and more. Designed to cater to businesses of all sizes, HubSpot's mobile CRM offers scalability, power, and user-friendly simplicity.
It excels in lead assignment, sales process monitoring, and recording customer interactions across channels. Compatible with G Suite and Microsoft Office, HubSpot ensures a hassle-free experience.
Freshsales is a feature-rich and user-friendly CRM designed to streamline sales processes for businesses of all sizes. With its robust capabilities for contact, account, sales pipeline, and deal management, Freshsales offers a comprehensive solution to effectively track and nurture leads.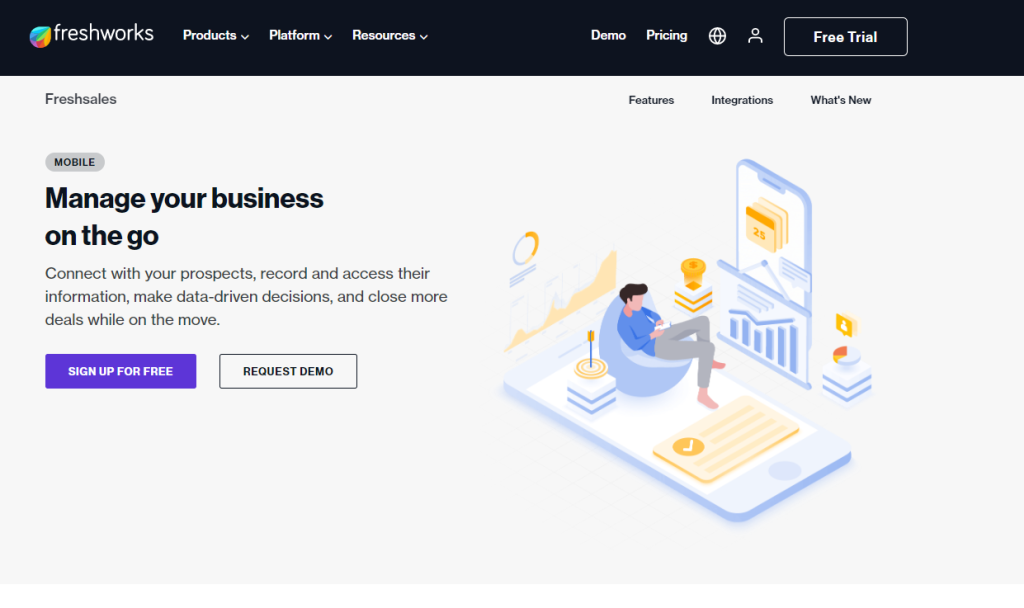 The platform's built-in communication features, including email and phone integration, simplify customer interactions. One notable aspect of Freshsales is its intuitive interface, making it easy to navigate and utilize its various features.
The CRM also offers lead engagement tracking and sorting, allowing businesses to prioritize their leads effectively. Additionally, Freshsales provides customizable forms and data input options, ensuring flexibility in capturing and organizing crucial customer information.While Freshsales shines in its core functionalities, it's worth noting that integration with other SaaS products may be limited. For businesses seeking a comprehensive suite of products, Freshsales offers additional solutions within their ecosystem.
Founded in 2014 Salesflare promises to be a mobile-first CRM, catering to the needs of businesses with its seamless mobile experience.
Salesflare eliminates the hassle of manual input and ensures accurate and up-to-date customer information.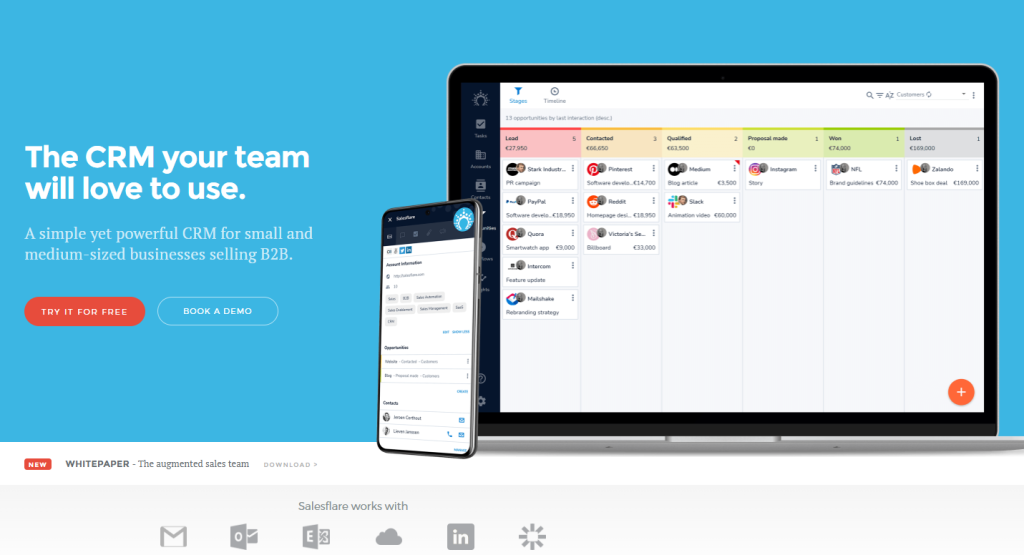 While a free plan and in-app dialer are not included, Salesflare remains a good choice for agile customer management with its robust mobile CRM capabilities that seamlessly complement the desktop app.
Pipedrive offers a CRM solution designed to cater to the needs of sales teams. Since its establishment in 2011, Pipedrive has been providing a straightforward and practical tool for sales professionals.
With a focus on simplicity, Pipedrive aims to streamline essential tasks like data entry and activity tracking. While there may be some manual effort involved, the user-friendly interface enhances efficiency and productivity for sales teams.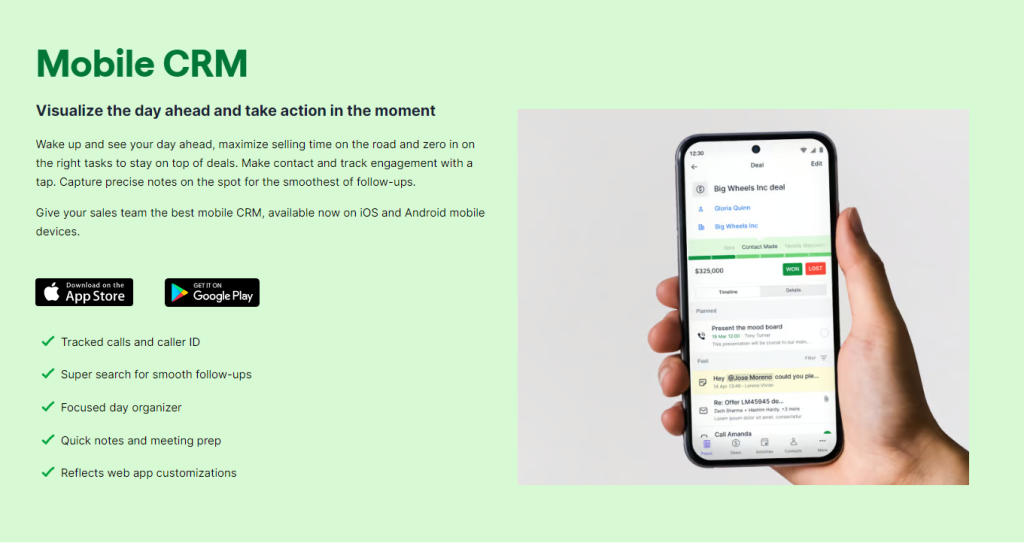 While the mobile app may have room for improvement in terms of user experience, Pipedrive remains a viable option for sales teams seeking a no-frills CRM solution.
Pipedrive's CRM features include a visual sales pipeline and tools for managing leads, contacts, deals, and activities. Different plans are available to accommodate various business requirements.
Capsule CRM is a user-friendly CRM app that provides essential tools for sales agents to streamline their tasks. With features like deal and contact management, sales pipeline monitoring, and workflow automation, Capsule CRM offers a solid foundation for effective sales management.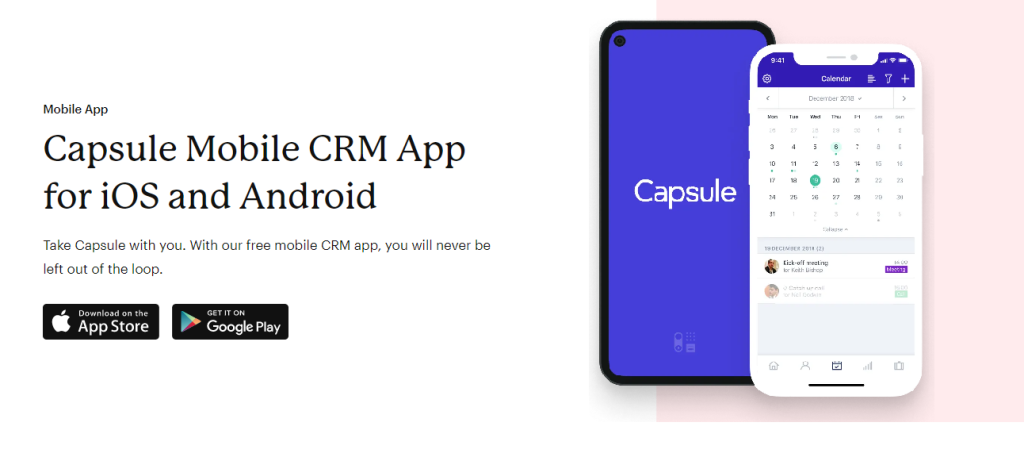 While it may not offer advanced sales tools like analytics and territory management, Capsule CRM focuses on simplicity and ease of use. It allows you to maintain better organization and collaboration within your team by providing a comprehensive view of all your customers in one centralized location.
With Capsule CRM, you can allocate tasks and responsibilities effectively using the teams and roles feature. Sales pipeline management helps you track the progress of your deals and make informed decisions.
Capsule CRM is designed to get you up and running quickly, with easy customization to fit your business needs. Simplify your sales process and achieve better results with Capsule CRM.
Salesforce is a renowned CRM provider that caters to businesses of all sizes. Their scaled-down version, Salesforce Essentials, offers powerful sales automation, lead management, and customer support tools. With a competitive price point of $25 per month, it's an appealing choice for startups and small businesses.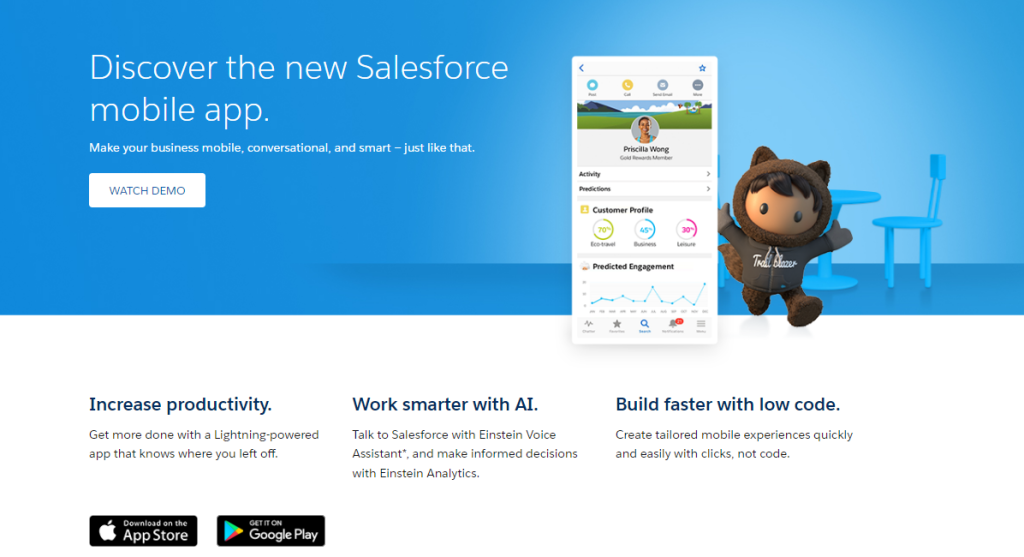 As the leading CRM company, Salesforce's feature-rich dashboard provides a centralized view of customer information. In-app assistance, including guided setup and tutorials, ensures a smooth onboarding process.
While Salesforce has expanded its focus to serve enterprises, it still offers Salesforce Essentials for small businesses. However, compared to other CRMs, it may have limitations in terms of user-friendliness and customization tailored for sales teams.
If extreme customizability is a priority or you operate in a corporate environment, Salesforce can be a strong contender. However, it's essential to carefully review the contract details.
Despite potential limitations in its mobile app, Salesforce provides a comprehensive set of features that empower businesses on the go.
Bitrix24 is a feature-rich CRM platform with specialized functionalities tailored for businesses running e-commerce stores. It offers a range of collaboration and customer management tools that can greatly benefit small businesses.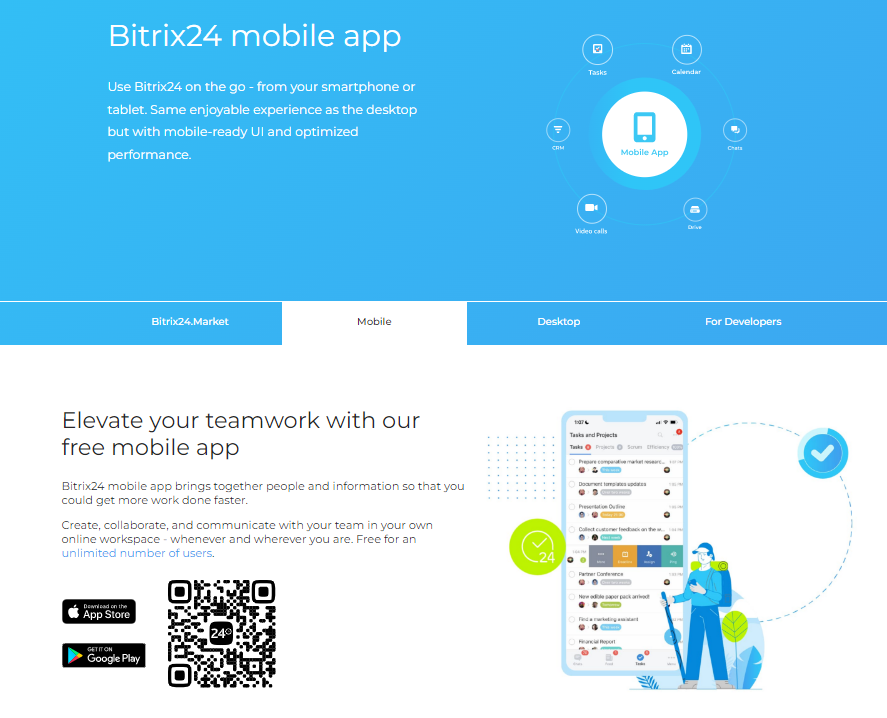 With its fair pricing structure, Bitrix24 provides suitable plans for businesses of all sizes. The platform encompasses various tools for client management, task and project management, customer support, internal communications, and e-commerce.
Bitrix24 stands out as an all-in-one CRM solution that can streamline operations and enhance business processes. Its extensive feature set caters to the diverse needs of small businesses, empowering them to effectively manage their sales and customer interactions.
Conclusion

Choosing the right CRM for your business is crucial for efficient sales and customer management. Each CRM platform mentioned in this blog offers unique features and functionalities that cater to different business needs.
Whether you require advanced analytics, workflow automation, or seamless mobile access, these CRM tools provide the necessary features to streamline your sales processes and enhance customer relationships.
It is essential to evaluate to consider factors such as scalability, user-friendliness, and integration capabilities to ensure a seamless implementation.
Ultimately, a well-chosen CRM system can empower your business, boost productivity, and drive growth. Take the time to explore these CRM options and find the one that aligns with your business goals and objectives. With the right CRM in place, you can optimize your sales efforts, strengthen customer engagement, and propel your business toward success.
For a top-notch Telecalling CRM solution, look no further than Runo. As Runo offers the best telecalling app features and also has an in-built CRM to boost your sales.
 
Try out Runo Call Management CRM for free and take your telecalling strategies to new heights.
Frequently Asked Question
Cloud CRM refers to customer relationship management software that is hosted on remote servers and accessed through the internet. It provides a centralized platform accessible from any device with an internet connection. On the other hand, mobile CRM specifically refers to CRM applications designed for mobile devices such as smartphones and tablets. Mobile CRM allows users to access and manage customer data, tasks, and interactions on the go, even without an internet connection. While cloud CRM offers broader accessibility, mobile CRM focuses on the specific needs of mobile users, providing a more tailored and convenient experience for those who primarily use mobile devices.
Mobile CRM is important because it empowers businesses to stay connected, responsive, and productive in today's fast-paced, mobile-driven world. It enables sales teams and business owners to access customer information, update records, and manage tasks from anywhere, at any time, using mobile devices. Mobile CRM ensures prompt responses, quicker follow-ups, and the ability to seize business opportunities on the go. It enhances sales performance, improves customer interactions, streamlines collaboration, and provides valuable insights. By leveraging mobile CRM, businesses can optimize their operations, strengthen customer relationships, and drive growth.
The main features of a CRM (Customer Relationship Management) system include:
Contact Management: Organizing and managing customer contacts, including contact details, communication history, and preferences.
Lead and Opportunity Management: Tracking and managing leads, converting them into opportunities, and monitoring the sales pipeline.
Sales and Activity Tracking: Monitoring and tracking sales activities, including emails, calls, meetings, and tasks, to ensure timely follow-ups and progress tracking.
Reporting and Analytics: Generating reports and analyzing data to gain insights into sales performance, customer behavior, and trends.
Collaboration and Team Management: Facilitating collaboration among team members, assigning tasks, and sharing information within the CRM system.
Customer Service and Support: Managing customer inquiries, tickets, and support cases, ensuring timely resolution and customer satisfaction.
Integration and Automation: Integrating with other business tools and systems, automating repetitive tasks, and streamlining workflows for increased efficiency.
Mobile Access: Providing mobile applications or responsive interfaces that allow users to access and manage CRM data from smartphones and tablets, enabling flexibility and on-the-go productivity.
These features collectively help businesses effectively manage customer relationships, streamline sales processes, and improve overall operational efficiency.